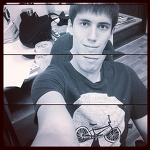 Юрий Сошинский: статусы
Дата регистрации
17 января 2013
Аккаунт
игрок основы

Настоящее имя
Юрий Александрович Сошинский
Пол
мужчина
Возраст
34
Местоположение

Россия

,

Москва

ICQ
339112868
Основатель блогов
Читает блоги
О себе
Interested in FIFA community development in the CIS. I write about FIFA and play FIFA. In cybersport/esports since 1999 CEO Russian Federation of E-Sports Football CEO "Z-1" PRO Fifa community Vk.com/z1fifa E-sport managment and Fifa player. Fifagc.ru Admin. - M1ght Contacts: VK - vk.com/mad.m1ght facebook - facebook.com/yurii.soshinsky twitter - twitter.com/m1ghtman icq - 339112868 vk.com/cyberfootball_russia
Добавляйте к отзыву теги спортсменов, клубов и турниров.
Добавить тег
Введите # (или №) и несколько первых букв, выберите нужный тег в выпадающем списке.

Юрий Сошинский
- редактирование статуса
Финал ESWC Russia 2015 (Fifa 15) соберёт всех топ-игроков страны 12-13 сентября в Москве.

Юрий Сошинский
- редактирование статуса
Interested in FIFA community development in the CIS. I write about FIFA and play FIFA. In cybersport since 1999 CEO Russian Football E-sports Federation (vk.com/cyberfootball_Russia) / "Z-1" PRO Fifa community. Vk.com/z1fifa E-sports managment and Fifa player. Fifagc.ru Fifa4stars.ru Admin. - M1ght Contacts: VK - vk.com/mad.m1ght facebook - facebook.com/yurii.soshinsky twitter -
...
Читать дальше
twitter.com/m1ghtman